'Something Blue' Wedding Nail Ideas That Will Wow Your Guests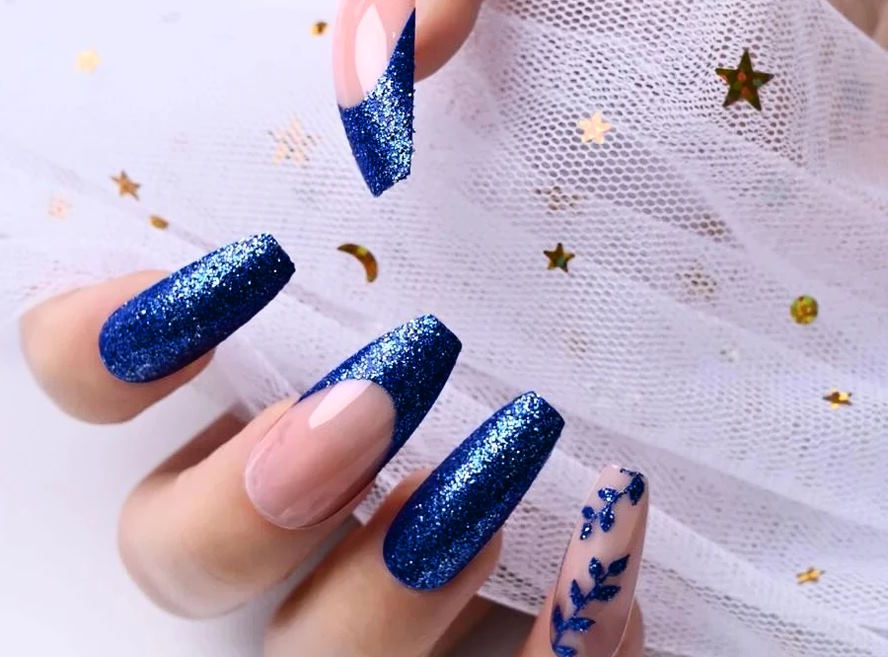 No matter the time of year or season, there's always something special about weddings that get us all excited. If you're saying 'I Do' soon, congratulations! Every detail matters greatly, from selecting a dress to choosing which song you'll dance your first dance to. While planning for your big day may seem overwhelming at times, one area you can have fun with is creating amazing wedding nail looks! Whether it be elegant french manicures or bold ombrés, all eyes will be just as captivated by your hands as by the gorgeous bling on your finger. To help ease the decision-making process, we've put together a list of beautiful 'Something Blue' themed nail ideas that are sure to make an impact and wow any guest!
Creative 'Something Blue' wedding nail ideas
If you're looking for wedding nail ideas incorporating the classic "something blue," look no further! From light blues to navy blues, there are endless options to ensure that you get the perfect manicure for your special day.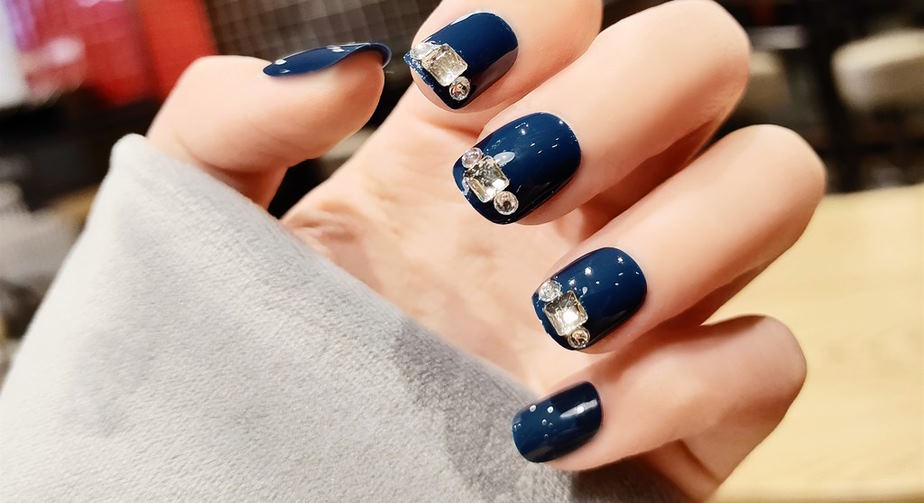 For a subtle and neutral look, try a baby blue French manicure. This classic style looks timeless and elegant while still showcasing the hint of blue on your nails. Another option is a light blue ombre manicure with white accents, giving off an ethereal vibe. If you're feeling bolder, opt for a glittery navy design—all eyes will be on your hands as they sparkle in any light! You can also choose to paint alternating nails with a light and dark blue to make the color pop. Finally, if you're feeling even more daring, try a colorful design featuring splashes of navy blue against a white background—it's sure to catch everyone's attention!
No matter which look you choose, your "something blue" wedding nails are sure to be showstoppers! These creative ideas give you the perfect manicure for your big day. Just remember to book an appointment with your favorite nail technician so they can get started on giving you a perfect look. Good luck and happy planning!
How to incorporate 'something blue' into your wedding manicure
It can be tricky, especially if you want to avoid going with a bright blue hue. To start, consider the theme and colors of your wedding day. While adding a pop of vibrant color may fit right in with a bright and fun celebration, it could look out of place at an intimate gathering or chic black-tie event. If you choose to go with something more subtle, opt for shades of soft baby or navy blue that will complement any palette while still bringing in a hint of something special.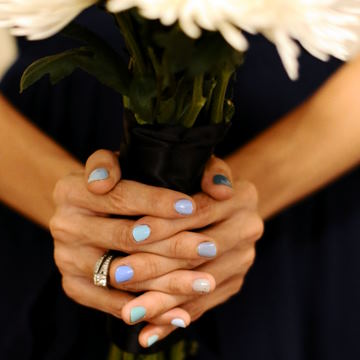 You can also play up the traditional 'something blue' aspect by incorporating tiny accents like rhinestones or glitter on just one nail. For more elaborate designs, try etching delicate details into your nails, such as hearts, stars, or even the names of you and your soon-to-be spouse. And if you really want to make a statement, go for an ombre design using various shades of blue, metallic accents, or even a chic French manicure.
No matter what option you choose, remember that 'something blue' is about having fun and celebrating your special day! So be creative and have fun with it – your wedding nails are sure to turn heads on your big day!
Keen to add more sparkle to your 'something blue'? Consider incorporating some shimmery or glittery elements, such as holographic powder or thin silver strips. If you're not a fan of bold accents but still want to add a bit of sparkle, try using light blue nail polish with hints of silver. This will still bring subtle pizzazz to your look while keeping it classic and timeless.
Whatever style you choose, discuss it with your manicurist beforehand so they can help you create the perfect wedding nails that represent your unique personality! Your special day deserves to be as memorable as possible – so don't forget about 'something blue' for your wedding manicure!